Ref:
Date:
Location:
Photographer:
Ref:
Date:
Location:
Photographer: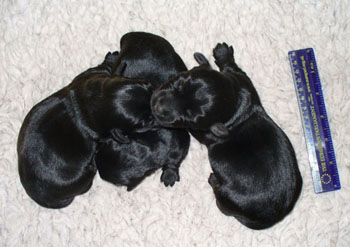 Because the Cesky Terrier is such a rare breed, there are times when there are quite literally no puppies available throughout the UK. So if you are interested in the breed how do you know who to contact in order to register an interest in an upcoming litter?
Friends of the Cesky Terrier maintains a puppy list, and all breeders are welcome to give details of any litters planned or already born, so that those who are interested in buying a puppy can find out if there are pups available, or likely to be for sale in the near future.
One week old. Aren't they tiny?
Puppies are not born to order - we can't freeze dry them and bring them back to life when someone wants to buy a Cesky Terrier puppy. Sometimes there will be no litters around, but a few months later there may be several breeders, all looking for suitable homes for their pups at the same time. For this reason, it's unlikely, but not impossible, that when you are wanting to buy a Cesky Terrier, there will be one ready to go at exactly the right moment. Maybe there will be a litter due in a couple of weeks time, or perhaps there is a puppy of four or five months still waiting for his or her forever home to come along.
They are quite independent at five weeks, but still need to cuddle up with mum from time to time.
Eight weeks old - and all ready to leave home!
Puppy List
It's sometimes difficult to find a Cesky Terrier puppy, so the Puppy List is here to help. Use the contact form if you would like details of puppies that are available or to learn about litters planned in the near future.