Ref:
Date:
Location:
Photographer:
Ref:
Date:
Location:
Photographer:
2016
You can't miss us!
Our first show was the Suffolk Game Fair over the weekend of March 12
th
and 13
th
The team consisted of Pamatka, Tomas, Anika, Xaver, Aeva and Harley.
Harley and his new friend Bobby.
Two weeks later we were in Thame - unfortunately so was Storm Katie!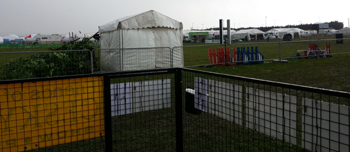 The dogs coped remarkably well with the wet, windy and muddy conditions, but sadly the second day of the show had to be cancelled as the ground was just too dangerous.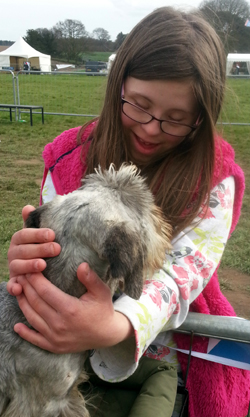 Thank goodness the weather turned better for our visit to the lovely Thoresby Hall in Nottinghamshire over the weekend of April 9
th
/10
th
. New boy this time was Darcy, and he soon got into the routine, and enjoyed meeting lots of new friends.
We were at All About Dogs at the Newark Showground over the last weekend in April - new boy Charlie brought his friends Myra and Betty, the Chinese Cresteds along. They had rather natty name tags, proclaiming that they were 'Friends of the Cesky Terrier'! We had a good sized team, consisting of Pamatka, Tomas, Anika, Xaver, Darcy, Charlie, Gabi, Grissom and Lupin.
Next we spent the early May Bank Holiday at Netley Marsh, in Hampshire. With all the awful weaher we have had it was a relief when the first day saw bright sunshine, and the team of Pamatka, Tomas, Anika, Xaver, Darcy, Bunty and Bess, were very busy meeting new friends.
We are constantly changing our display, and have now invested in some smart banners with our logo on for the side panels of our pen. Along with the bright yellow banner that adorns the front of our stand, it means that nobody can miss us, especially as we have a Czech flag flying overhead! In time we will replace all our photographs with banners as it means that we don't need to worry when it rains.
We went to beautiful Burghley House at the end of May. The regulars were joined by Grissom and Lupin, and their people Ron and Linda. Here is Grissom ready to start his 'meet and greet'. No sign of Xaver in the photo - I think he had already sneaked up on a comfy chair!
We loved the Bowood Game Fair last year, and were very pleased to attend the Bowood Dog Show in June - a charity event supported by Living Heritage. Our team consised of Pamatka, Tomas. Anika, Xaver, Blanche 1, Bess, Bunty and Blanche 2.
The regular team enjoyed the great weather at the Kent Game Fair at the end of June.
We went to the Game Fair at Ragley Hall in July. We were based in the Terrier Pavilion with several other breeds. Anya was the new girl this time and proved to be a natural, meeting and greeting all the visitors with enthusiasm.
Every day the terriers paraded in the arena, giving us an opportunity to introduce the Cesky Terrier to visitors who might not otherwise have met our breed.
Our next outing was to the busy Cheshire Game Fair over the August Bank Holiday weekend. This is a three day show, and Todd, Martha and Blanche joined the regular team.
We had lots of visitors, including this little boy who just wanted to be part of the gang!
Sandringham in September is always a very special show. Sadly this year the first day was almost a complete washout as the rain fell continuously, but Sunday made up for it with glorious sunshine, and we were busy all day. Paul came along to help, and brought his delightful puppy Celeste, who soon made herself at home. After some enthusiastic meeting and greeting she settled down for a snooze, with Anika looking after her.
Once again we paraded the terriers in the arena. Elsie was just visiting the show with her owners, but we persuaded her to come and join us!
The final show of the season takes place in the grounds of the beautiful Bowood House in Wiltshire. Once again we were very busy talking about Cesky Terriers, and it was great to meet several people who remembered us from last year. One special visitor was Ajax, who had been at Bowood last year as a 14-week-old puppy. His owners met the breed for the first time there, went home and decided that a Cesky Terrier was the breed for them, and were delighted when they discovered that there was a puppy available - and even more thrilled when they discovered that they had already met Carol - and AJ - at the show.
The regular team now consists of Anika, Anya, Pamatka, Tomas and Xaver. Here are the two 'A's doing what Cesky Terriers do best, chilling out whilst enjoying the strokes and cuddles of the visitors. At Bowood they were joined by Blanche, Bess and Bunty.
You may have noticed the fabulous new collar tags that the team are wearing, showing the Czech flag. They are made by
PS Pet Tags
Details of all the Living Heritage Country Shows can be found
here
. See you next year!